About Us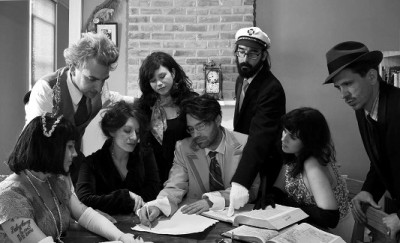 By Todd Schrenk, with Jeremy Yuslum …extant founders of 'tit Rəx
The world's first Mardi Gras microkrewe, 'tit Rəx was founded in 2009 by a group of artists, teachers, businesspeople, workers, and bon vivants.
The Vision
Inspired by Bacchus, the father of all super krewes, the creators of 'tit Rəx asked: in an age when super krewes are setting the bar for larger and larger spectacles, when route consolidation has resulted in epic evenings of parade upon parade, when the size and velocity of throws has become at times physically hazardous to the recipients, could New Orleans not benefit from one krewe that takes the opposite approach?
The Name
The parade's name is based on the Cajun diminutive, an abbreviation of petite, used as a prefix before the name of the smaller or younger of two people who share a first name. 'tit Jean, Tee Jean, Ti Jean, or T-Jean – casual research revealed inconsistent spellings – would translate to "little John." Thus, 'tit Rex: Cajun wordplay on one of Carnival's hoariest parades. The name also suggests an ironic comparison to the king of dinosaurs, the giant Tyrannosaurus Rex. Any connection to the glam-rock band T-Rex is purely coincidental.
The Foundation
Taking their cue from the generations-old, grade-school tradition of decorating shoeboxes to look like Mardi Gras floats, 'tit Rəx members use shoeboxes as the foundation of their floats. Some of the floats from parades past are here on display.
The Schwa
That has its own story… read all about it here.

The floats take many shapes and sizes, but all must start with one thing: a shoe box as its base.
Over the years the krewe members have discovered many tiny tricks for lighting, decoration, mobility, etc. That's all part of the creative process, and we love it! Beginning in late November/December of each year 'Tiny Throws' meetings are held every two weeks to enable the krewe members to not only get together and SEE one another, but also share ideas, see each other's throws for that upcoming year, debate/discuss and otherwise chew-threw ideas, designs, brilliant strategies and each other's liquor and wine cabinets.

This Year's ( and probably next year's too ) Route:

We start just outside St. Roch Tavern, one block up from St. Claude, then march to St. Claude, make a left and proceed down the grand boulevard to Music St, where we hang a right and strut to Franklin…continuing on Franklin to Royal (with a stop or two at Lost Love Lounge, Cutters & Mimi's). Continue on Royal to Mandeville, hang a right and roll to Burgundy, where we take a hard left, then a quick right up Marigny (yes, we know we're marching the WRONG WAY, that's what police are for) finally creeping up behind the Allways Lounge which is our final destination!

The 'tit Rəx Ping Pong Ball (including Gallier Small) will be held at The Allways Lounge after the parade. (Just $10 for admission)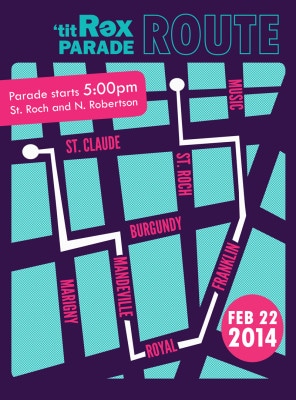 ​