The Schwa Solution
In the days, weeks, and months leading up to the Krewe's 2012 campaign, the Little Parade That Could suddenly and surprisingly found ourselves embroiled in one of the oddest David and Goliath fights this side of the slingshot. REX, the King of Carnival, and one of the original traditional carnival krewes of the city, took umbrage at the "Rex" part of 'tit-Rex's name. Apparently they had caught wind of our tiny existence due to a feature about the parade that ran in the official Mardi Gras Guide put out annually by Arthur Hardy, which showed our route map and all.
Still, to us, it seemed preposterous that the mighty Rex would care at all about a shoebox parade that rolled far afield of their route ten days before carnival day. From Rex's end, the claim was that they had no problem with us as a parade (and we sold no merch bearing the word "Rex") but that it opened the door to others who may be more opportunistic and damaging to the Rex brand. In other words, a krewe could spring up called Registered Rex Offenders who sold rad RRO tees and made made money while poisoning the Rex name.
The lawyers reiterated that it wasn't anything personal but brand (or name) protection at stake.
Alas, our president was served official legal papers. Paper stalls were put forth from our side. Squalls went up around the board room table: the legal arm and treasure chest of Rex obviously could outmatch 'tit-Rex, even with several lawyers lining up for us with offers of pro bono work. Our real fear was that, pending court case or no, Rex could get an injunction that would bar us from getting a permit for the 2012 parade. Could we parade on the sidewalks? Be banquettey? Those ideas were floated, but didn't make much sense. The conceit that separated us from a pre-carnival grammar school art project was that we had bands and police escorts and rolled down the center of the boulevard like a real parade with crowds on both flanks.
A meeting was set up between two representatives of Rex's legal arm and the president, Jeremy Yuslum, and treasurer, Janine Hayes, of 'tit-Rex. Jeremy wanted to have the meeting at a bar just off of Canal called Picadilly, an odd joint that was half dive bar half traveler's weigh station, that might throw the Rexsters a bit out of their comfort zone. The Picadilly, alas, never reopened after Katrina (it was presumed), or in any case was fully shuttered now, so the four went into The Roosevelt Bar a few doors down. The genius of this — and something you couldn't script — was that at that very time The Roosevelt Bar was embroiled in a legal wrangle with the bar of the Roosevelt Hotel (nextdoor) over naming rights. Chinese boxes of Janus faces. The meeting was cordial, friendly even, and Sazeracs were passed. The lawyers reiterated that it wasn't anything personal but brand (or name) protection at stake. At essence was that sequence of the three letters R-e-x. We could change our name to tit-Wrecks or t-Rox or whatever, as long as those sacrosanct three characters didn't appear in sequence.
All that composite expertise lead to the intrepid act of… turning the 'e' in Rex upside down.
In the time intervening our next board meeting, we all became variously versed and confounded on the nature of copyright (not technically the issue at hand) and patent and carnival precedence and other matters, and we essentially debated some sort of capitulation just for the sake of rolling on time or whether to go the defiance route which might gain us continued exposure, which at this point, and now including a lengthy piece on NPR, exceeded our wildest dreams.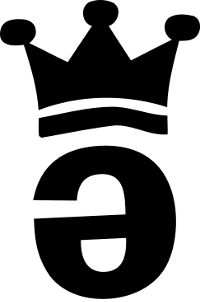 The spillover of this was hotly debated when the board did meet, at a nervously late date, on 27 December 2011. Everyone had an opinion on the appease-or-defy sliding scale, and acceptable name alterations, such as 'tit-Rx (the plus: prescription pun) or t-Roi being proposed, but nothing quite was splitting the mark. Finally, one board member, Brett Evans, a poet not by trade but with graduate classes in linguistics and poetics under his belt and also as an afficianado of the Letter Man segment of the Electric Company show (in which the hero could rip away a chest-centered letter and effect real change, like pulling off a C to change someone's frown to a crown), well, he came from behind a glass of wine with a solution everyone seemed ready to live with. All that composite expertise lead to the intrepid act of… turning the 'e' in Rex upside down. Into the linguistic character known as the schwa, which represents the flat 'uh' sound in English as in the word 'the'. One by one and two by two around the table, people seemed to dig the idea: the schwa seemed the sort of vowel underdog that just added one more layer to what was already the triple pun of our name. A motion was taken and voted on: the schwa was in!
Now the question was — would Rex be satisfied with this (seemingly just too damn simple) solution. Probably because they were losing the war of public opinion (who pulls for Goliath?) and this gave them a way to save face and relent while still saying that the whole thing met their criterion — our wee krewe will never truly know perhaps — the change was ultimately accepted.
In our camp, it came to be championed. Our official theme for 2012 was "Napoleon Avenue Complex," but in addition to that, the "schwa' became a sort of sub- or ghost- theme. Schwa-specific throws were made. Some dovetailed their floats to incorporate Napoleon-ness and schwa-ness, such as in a float depicting "little man syndrome" called Chi-schwa-ua, which depicted the toy dog squared off against a much larger dog. Members of the crowd were constantly making schwa jokes (no, it's not just for linguistics class anymore) along the route, suggesting a "Schwa-shank Redemption" and the like.
All in all, the schwa became one more tiny rhinestone in our dazzling devo hat, and was the magic key that restored peace between our krewe and Rex.