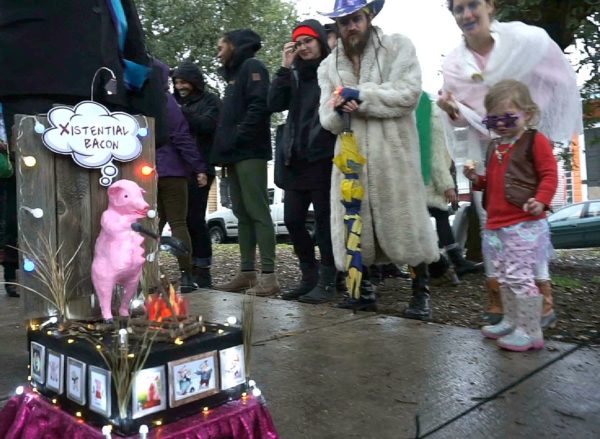 By Doug MacCash
NOLA.com | The Times-Picayune
A little rain couldn't stop New Orleans' littlest Mardi Gras parade from rolling merrily through the Marigny on Saturday night (Feb. 3). This year the 'tit Rex parade (pronounced like the meat-eating dinosaur) turned 10 and the theme was simply "X."
Knee-high floats titled "They all aXed for you," "Wretched eXcess," and "Xfoliatin'," surrealistically celebrated the anniversary. The most crowd-pleasing design was probably "eXpired," a miniature cemetery dedicated to beloved New Orleans' businesses that ain't dere no more.
The most smile-producing political float was "Gas X," which playfully warned the chief executive of the United States of the alimentary pitfalls of a fast food diet. The genius float makers arranged for tiny puffs of vapor to regularly emerge from a crucial area of the design.
Honestly, I still don't quite understand the concept behind the "eXistential Bacon" float, but I've come to realize that comprehension is highly overrated and rarely necessary for Carnival enjoyment. And here's a shout out to the helium balloon-borne float that actually, uh, floated.
Read more at Nola.com HERE