Veronica Russell: Runway Alchemist & Shoebox Queen
by Cree McCree
[Editor's note: In this series, the 'tit Rəx krewe pays tribute to beloved member Veronica Russell, who passed away August 6, 2014, at age 44.]
In 2011, when we were preparing to stage Nutria-palooza! on the Bayou in Lafayette, I asked Vee if she wanted to design something for our Righteous Fur fashion show. She dove into the project with her usual enthusiasm, requesting additional pelts to manifest the amazing vision she had in her head for two fantabulous pieces.
While most of the other designers used nutria as trim, rather than the primary material, Vee challenged herself to create a 3/4-length nutria coat that was a true engineering triumph, as well as a stunning design. I'll let her describe it in her own words, which she wrote for the runway blurb:
Fully lined and trimmed with Ikat weave silk from the ChangMai province of Thailand, with a warm fleece interlining, this luxurious coat boasts welted pockets at the hip and vintage lucite button closures. Coat skirt zips off to create a chic cropped jacket. A third look is achieved by zipping the coat skirt onto the collar, transforming the coat into a dynamic caped jacket. 14 pelts went into the making of this jacket.
Fourteen pelts! Three looks! And model Amanda Thompson worked every one of them on the runway, making a grand entrance in a piece fit for a ChangMai princess, then zipping the skirt off to reveal a sassy little jacket and reattaching it as dramatic wing collar. Talk about a show stopper!
But Vee saved the best for last, when she unveiled an ethereal bridal gown for the show's finale. In her own words:
Elegant enough for a bride, but classic enough for any formal affair, this bias-cut chiffon gown in graduated tones is trimmed all around with 1/2" nutria fringe and rows of glass and metal seed beads. The tulle "Crysanthemum" headdress is mounted on a nutria-covered juliet cap.
Breathtaking! Modeled by her dear friend and longtime collaborator Diana Shortez, this lighter than air creation was pure magic: Vee transformed the much-reviled swamp rat — that pesky invasive species that feasts on our disappearing wetlands — into the finest, most delicate vision of an angel glimpsed in passing as she floated down the runway, trailing stardust in her wake.
I get goose bumps thinking about it even now.
Veronica Russell was a world-class designer and costumier, whose work for Righteous Fur represents but a fraction of her creative contributions in the design world alone — which, as we all know, was just one of the many magic hats she wore. She was also a total goofball and completely humble about her gifts. The words "crud!" and "poop!" pepper her end of our email exchanges, which are so conversational I can hear her talking in my ear right now:
hahaha- this is my curse. I always end up bugging someone about something FIVE MINUTES before they're gonna get back to me anyway. ("Hey, FedEx- Where's my effing package, huh?!?! Oh wait, someone's at the door… and it's the FedEx guy. Thanks!")

Oh MAN- I was so tied up in actually physically finishing the pieces, I completely forgot my writeups! We are leaving here by 2:00, barring any getting-lost, we should make it in the neighborhood of 4:00ish. See you then! So excited!!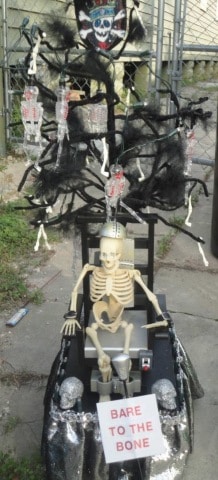 Oh MAN, Veronica! I miss you! I wish you were here whipping up another fabulous creation for our next Nutria-palooza. I wish we could toss around ideas for the next 'tit Rəx parade. I'd love to see what you'd do with this year's theme. If ever there was someone who could nail "L'Enfant Terrible" it's you.
But I'll have to make do with my wonderful memories of you — like the time I was in a panic trying to find a shoebox at the 11th hour for the tR "Bare Minimum" parade. You generously invited me over to view your stash, and when you opened your closet, it was filled to overflowing with shoeboxes of every size and shape. My eyes almost popped out; I'd never seen so many shoeboxes!
If ever there was a woman born to march with 'tit Rəx, it's Veronica Russell: the Imelda Marcos of Treme!
I'm pleased as punch that the float I created using the shoebox you gave me — "Bare to the Bone" — is my contribution to our upcoming tR showfloat auction. Your spirit will be riding high at that event, not only on my float, but in all our hearts.
Godspeed, Veronica!