'tit Rəx 2014 SHOWFLOAT AUCTION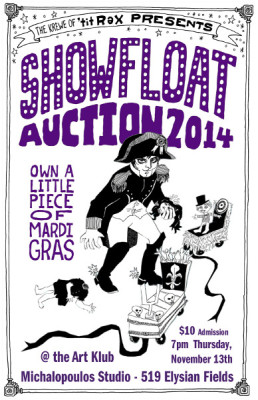 The first of its kind! The Krewe of 'tit Rǝx is proud to bring you an evening of socializing, cocktailing and of course 'tit ART.
Have you always wanted to own a little piece of Mardi Gras? Now is your chance! Select floats from years gone-by will be up for bid, along with 'tit Rǝx-related artwork from krewe members and others in the 'tit communauté. John Calhoun of The Goodnight Show will conduct the auction.
Come out on Thursday, November 13th, 2014 to the Art Klub at Michalopoulos Studio – 519 Elysian Fields Ave. Doors open at 7pm, cocktail hour to follow, auction begins promptly at 8pm.
Tickets are $10 at the door and include a special 'tit cocktail to start the night off right.
Why are we doing this? It's a fund-raiser, for a great cause.
As you may know, 'tit Rǝx will be rolling its seventh year this coming Mardi Gras and we are bigger (ahem) than ever. For 2015 we would like to add one more band to our ranks, and we'd also like to be able to pay our regular band members the wage they deserve. What's a Mardi Gras Parade without music? Right? We would also like to continue our support for local arts causes like Roots of Music. It's also an excuse to have a party. We like parties.