A Parade-Goers Guide to Viewing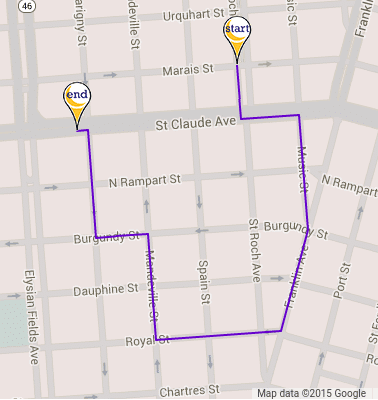 Although the 'tit Rəx Parade route is relatively short (just 13 blocks), you may still wonder, "Where is the best place to see/do _____?" Here are a few suggestions, grouped for specific parade-goers:

Parents with Small Children: The neutral ground of St. Roch, above Marais St. is where we will be lining up in preparation to roll. This not only provides the best light, but also the most room to walk around and even get up close to the floats and their makers/riders, all without the crush of the crowd or the dangers of potholes or rowdy revelers. We roll at 5pm sharp, but generally we're mostly in place by 4:30pm to allow for adjustments and pictures. The only thing we ask is that you keep in mind this is our staging area, so don't expect the parade to be a *Parade* until we actually roll at 5pm. (Also – parents with very small kids – please watch your toddlers with any small throws, these could be choking hazzards)

Daylight Photography: Again, the neutral ground along St. Roch prior to and when we begin to roll. There are usually crowds gathered closer to Marais St. so there is still a parade feeling as we launch.

Live Life on the Edge: St. Roch along the market, cross St. Claude to the Music St. turn. If you want to see tiny floats hustle across 4 lanes of traffic, please join us for the 'fun.'

Daylight, but with an intimate Nola Small Street Feeling: Music St. to Franklin Ave. This has become one of the best places to not only get daylight views of the parade but also score the most throws. (By this point we're juiced up enough to be liberal and generous. Watch us as we attempt to navigate the notorious potholes with smiles on our faces.)

Crowded Twilight Frenzied Revelry: Franklin Ave approaching Royal and rounding the corner to St. Roch. We stop for a half/hour break at the corner of Franklin & Royal which in past years has grown to be the epicenter of our crowds. The sun will have just set and the press of the Mardi Gras crowd will be peaking. Grab a beverage at any of the surrounding bar-stops and raise a go-cup to Mardi Gras!

Nighttime Not So Crowded Street Viewing: Although the crowds in the past few years have steadily grown, there is generally plenty of room along Royal St. (after St Roch), up to and around the Mandeville St. turn. Many neighbors will be on their stoops and we've seen a lot of tiny parade scenes set up along this stretch.

Revving Up to the Final Destination: Burgundy and Marigny Sts. have become the 'Big Finish' in after parading to this point we're usually the 'most animated' of the entire run. Rowdy crowds, equally 'animated' usually join us as we Contra-Flow up Marigny to our final stop: The Allways, and the Ping Pong Ball.
The Ping Pong Ball is open to the public, and we invite any and all (of age) to our post parade Gallier Small presentation of the floats and the blowout dance party that usually follows.