Mardi Gras 2015: The 'tit Rex miniparade shows its teeth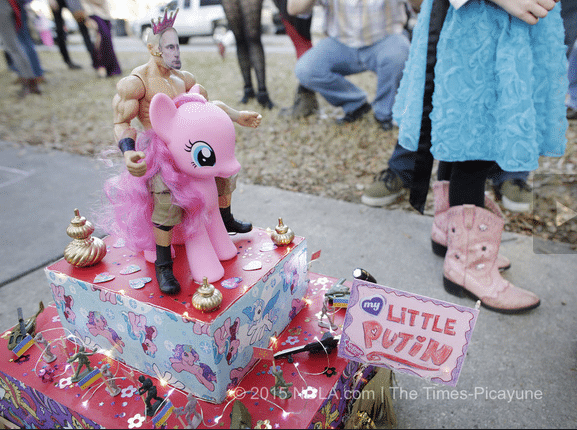 By Doug MacCash, NOLA.com | The Times-Picayune
February 07, 2015 at 10:22 PM
The tiny floats of the Krewe of 'tit Rex parade that rattled through Faubourg Marigny on Saturday (Feb. 7) during Mardi Gras 2015, packed a satiric wallop way beyond their size. The float makers gleefully poked fun at Vladimir Putin's superheroic self-image, Gov. Bobby Jindal's much-publicized portrait, health care costs, New Orleans' noise ordinance, gentrification, and water boarding. Gentility and good taste sometimes suffered at their hands.
Of course, splintery political commentary is one of the glories of Carnival.
On Jan. 31 when Krewe du Vieux paraded through the same neighborhood, some onlookers suggested that the krewe's customary political edginess had vanished in favor of sexual innuendo. But it hadn't vanished at all, it had just moved over to 'tit Rex.
Sexual innuendo is certainly part of the marvelous cathartic Carnival machine, so the ribald bunch at KDV will always have a place in our hearts. But it now seems that 'tit Rex has assumed the role of the most politically plugged-in of the downtown parades.
But here's where the 'tit Rex dichotomy kicks in. Though some of the statements delivered by the 'tit Rex floats are harsh, the scale is so small that the meaning is difficult to discern as they roll swiftly by. 'Tit Rex is like the kid in class who utters the most outrageous thing, but is wise enough to do so in a whisper.