11 Funky Mardi Gras Parades You Didn't Know Existed: No 2- 'tit Rex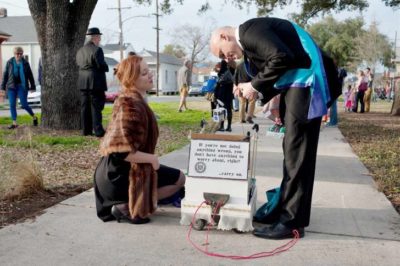 Krewe of 'tit Rex members Veronica Russel & Michael Cerveris preparing for the 2014 Parade, 'Wee The People'.
For decades, New Orleans schoolchildren would fashion Carnival floats out of shoe boxes. Now there's a whole parade of them (Saturday, Jan. 30), courtesy of 'tit Rex, about as street-level a procession as one can imagine. (The floats are so tiny, krewe membership has been capped so as not to overwhelm members' own work.) A loose coalition of some of New Orleans' most creative artists, journalists, and entertainers, 'tit Rex's membership includes Broadway and TV star Michael Cerveris ("Fun Home," "The Good Wife"), and the floats often embody the same satire (politically and socially) of the Krewe du Vieux parade (though without as much raunch). The mini-parade rolls through the Faubourg Marigny just before and after sunset.
Originally posted to MSN.com – Read the whole article HERE