Last Weekend: 'tit Rǝx Bares All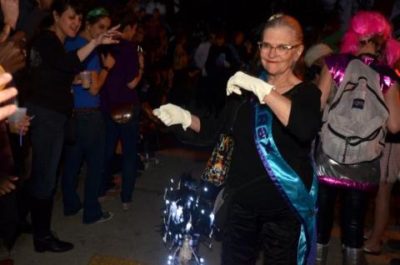 Cree McCree of 'tit Rǝx PostedJanuary 30, 2013
by Alex Rawls
Photo from the 'tit Rex parade.
[Updated] Last year's the Krewe of 'tit Rex (imagine that "e" is a schwa in this and all other uses of the krewe title) faced controversy when Rex challenged Carnival's first microkrewe over its name. This year, the biggest obstacle 'tit Rex faced was the absence of a police escort, which slowed the crossing of St. Claude Avenue until paradegoers formed a bicycle barricade to help it on it's way.
On Saturday night, the krewe paraded in the Marigny with the theme "The Bare Minimum," and such minimalist floats as a barely decorated shoebox and a tribute to artist Dan Flavin, along with a host of "bare/bear" jokes ranging from rips on Governor Bobby Jindal to my own take on gun control.
This post originated at myspiltmilk.com – Read it all HERE