The tiny but mighty 'tit Rex Mardi Gras parade turns 10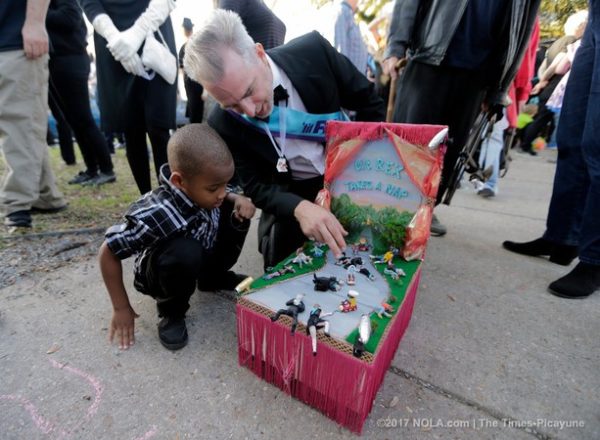 By Doug MacCash
NOLA.com | The Times-Picayune
The bitingly satirical shoe box parade 'tit Rex (pronounced T-Rex) that takes place Feb. 3, is 10 years old. In keeping with its smallness, the 'tit Rex leadership has conceived what it believes to be the shortest theme in Carnival history … the letter "X."
Founder Jeremy Yuslum, who has lived in new Orleans since he was a mere baby, said that when the idea first crossed his mind, he "never, never," imagined the mini parade would persist for a decade.
"I wasn't thinking that far ahead," he said.
Nobody was. It was just months after Hurricane Katrina. Yuslum had evacuated to Philadelphia, but he was back in town for the 2006 Mardi Gras season. Like everyone else, he was contemplating the future of the badly damaged city.
"Hummers and SUVs were all the rage at the time," Yuslum recalled. The big movie of the moment was "King Kong." There was a societal sense that "more is better."
Read more at Nola.com HERE